Apr 21, 2017, Articles
Your case largely rests on the assumption that the CPO is highly trustworthy, makes no mistakes, and has no bias or political agenda. A different picture of the CPO appears in at least two articles (posted on this website, Sampradaya Sun), which I urge readers of this letter to peruse.… Read more…
Apr 21, 2017, Articles
There are many horrible things going on the world. One of them which is widespread in the modern world and has also severely impacted ISKCON is child abuse. Although within our society now there are all kinds of systems that are meant to prevent that, it seems that it is impossible to totally prevent.… Read more…
Apr 7, 2017, Book Reviews
We are a preaching movement, and that literally means that everyone should preach. Including women, children, old, sick, temple cat, etc. BUT at the same time, he teaches us what comes first. First is to finish our duties at home, towards our family. That is the prescribed duty for grihastha asrama. That means, that we should not leave our crying baby at home, because we have to run to the temple to cook 50 preparations for festivals or book distribution, etc. while children are left alone for hours at home scared and hungry.… Read more…
Apr 18, 2017, Video Reviews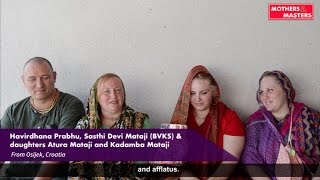 Apr 8, 2017, Video Reviews
The first in a series of readings on the 1st edition of H.H. Bhakti Vikasa Swami's Women: Masters or Mothers? This video covers the book's introduction, read by Krishna-kirti Prabhu, who also comments on the text.…
Oct 20, 2016
Question: I wonder about the Panca Tattva bas relief that we now have here in Belfast. What is your opinion? I hesitate to get involved in the worship until I know your opinion.
Oct 20, 2016
Question: Is there only one way to follow Srila Prabhupada?… Expand>
Question:
Is there only one way to follow Srila Prabhupada?
ANSWER by HH Bhakti Vikasa Swami:
Sridham Shyam Prabhu wrote an article which brought my attention to, in which he states that, as he understands, there are not many ways of following Śrīla Prabhupāda but there is one way to follow.
Now...in one sense it's true. The proper way to follow Śrīla Prabhupāda is with all sincerity aspiring for pure devotional service, and following his instructions. On the other hand there is no stereotype, and Śrīla Prabhupāda gave different instructions to different devotees.
Sometimes on the same subject. For instance within his books, and repeatedly elsewhere, Śrīla Prabhupāda said that sannyāsi should be very strict in the matter of associating with women, which anyone in India up to the present day can understand, unless they are a follower of Osho, who are not much liked by Indian public.
Up to the present day the Indian public don't like. They don't mind to be cheated by swamis and sannyāsis, and spiritually, but they don't like if they mix up with women...up to the present day. This Asaram Bapu Swami was finished not because of the murder cases in his āśram, but it came out about his womanizing. He is not actually a sannyāsi, but he is a holly man (supposed to be) and his illicit mixing with women is not at all appreciated. In South India this Paramahaṁsa Nityānanda was finished when it came about his womanizing, which in the West no one cares at all, but in India...
I'm just coming to the point now...
EXAMPLES
There is one Back to Godhead magazine published in Śrīla Prabhupāda's presence, in which Sudama Swami...On the order of Śrīla Prabhupāda he led up the Vaikuṇṭha players, a drama troupe which had dance, and which was very much appreciated by Śrīla Prabhupāda, giving the teachings of Kṛṣṇa consciousness in drama form. And in that group there were women, which Śrīla Prabhupāda allow, but did not want in India. But, in the West he allowed it. Different culture. Sudama said to Śrīla Prabhupāda:"...all these women dancing...", and Śrīla Prabhupāda said "That is your sannyās!".
It's right there in Back to Godhead magazine, so, he gave different...
Also, in two days in Vṛndāvan, to one sannyāsi Śrīla Prabhupāda told: "You leave Vṛndāvan! Don't spend more than three days at any place. Sannyāsi should always be moving." The next day, to another sannyāsi he said: "Stay here, manage this project and never leave!" So, to one he said "Sannyāsi always travels", and to the other one sannyāsi "Stay here!".
DIFFERENT EMPHASIS IN DEVOTIONAL SERVICE
So, there may be apparent contradictions. It's not actually a contradiction, it's specialized instruction according to service. So, one way to follow...Yes, we should know Śrīla Prabhupāda's instructions and follow them, but we should know there is variety within that also. And, we see very exalted followers of Śrīla Prabhupāda who were...they are quite different in their emphasis in devotional service.
Two of most prominent preachers of Kṛṣṇa consciousness in the modern world, Śrīla Prabhupāda's disciples in the Western world, one is Vaisesika Dasa Prabhu who is a grihasta. Well, he is well known, of course. He very much promotes the distribution of Śrīla Prabhupāda's books. That's his main focus.
Indradyumna Swami has been a sannyāsi for many years and he also promotes book distribution but within the ambit of his festive programs, which are his main preaching. Doing festivals with hāriṇams, and dances, lots of kīrtan and whole package.
So, their approach, or their life focus in Śrīla Prabhupāda's service is very different. They are not doing exactly the same thing, but they are both undoubtedly pleasant to Śrīla Prabhupāda, and following him very much.
CONCLUSION
So, one way to follow Śrīla Prabhupāda...In one sense yes, but there may be others, there have to be, actually specializations. Different devotees have different approaches. So, what is the correct stand on this issue?
I prefer not to take milk from "blood cows", or sometimes devotees call it "blood milk" because the cows are killed, but I'm not on a campaign against devotees who take that, because Śrīla Prabhupāda's said we could take it. On the other hand, he also said we should establish our own farm communities.
So, that should be bonum.
^ Show less